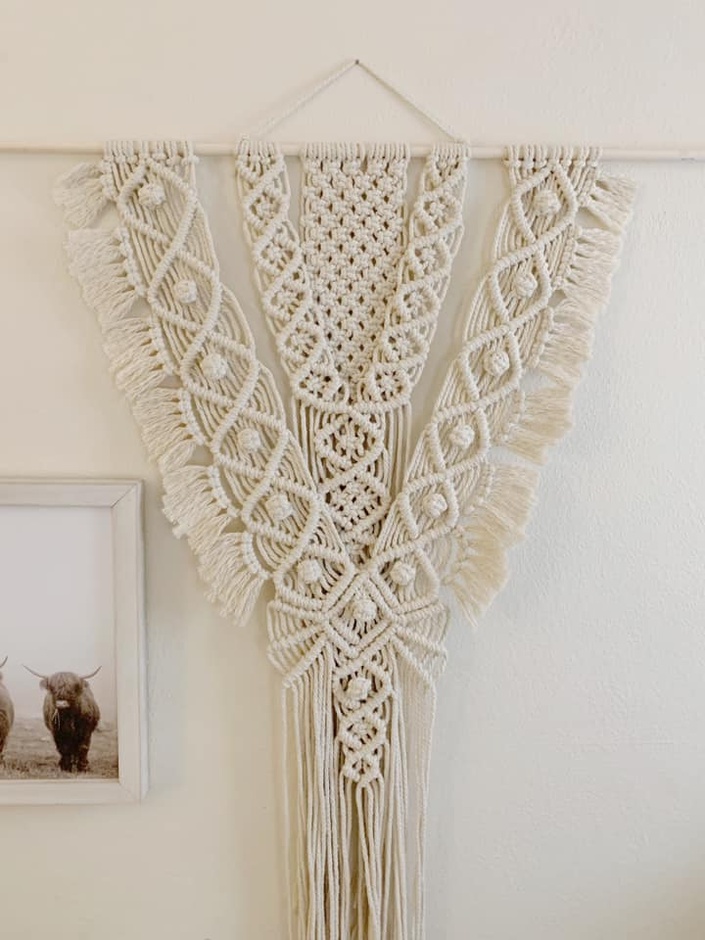 .Become a confident macrame artist.
Macrame for beginners and beyond- self study course
This course is ideal for people who are keen to learn MACRAME in-depth AND BUILD A STRONG FOUNDATION
The perfect course if you are in love with the natural bohemian vibes but are overwhelmed with all the information out there!
Learn from one of the best macramé teachers how to make and design your own jaw-dropping macrame wall hanging with confidence.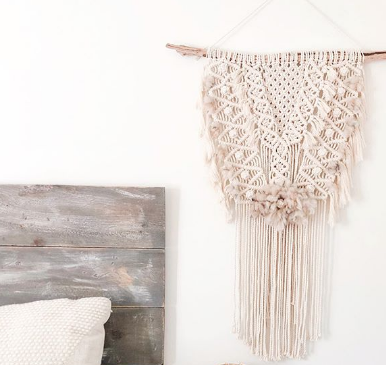 If you are looking to learn from one of the best teachers, be part of a vibrant community, and learn & master macrame,
THIS is the online course for you.
Doesn't matter if you have never made a knot in your life or you have been knotting for a while and are looking to master the basics, Isabella will guide you through all the basics and everyone is welcome to join this creative journey.
Macrame is not just the art of knotting, it's a way to find mindfulness every day, taking time to be creative and self-care.
Isabella calls macrame: yoga for the mind.
Whether you have found macrame by chance or you have been looking to learn more about this craft,
'Become a Confident Macrame Artist' is here to help you find creativity and express your boho style.
Embrace your calling
Explore macrame
Like most things, with macrame, you need time to practise and master it and what a better way to do it than with Isabella and her extensive experience.
She has been collaborating with Hobby Craft since 2018 for their macrame projects, she regularly features in Mollie Makes magazine and her work has been featured in Psychology Magazine, Good Homes and the Sunday Telegraph. She is currently working on her third macrame book.

---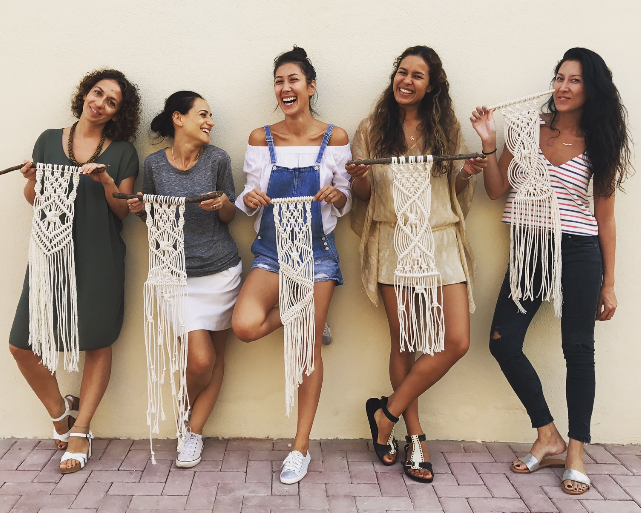 ---
WELCOME TO THE MACRAME TRIBE
Join the movement of women that are learning Modern Macrame
Macrame is not just about learning a new craft and skills. It changes lives, one knot at a time.
It's one of the most mindful crafts, the repetition of the knots will help you switch off and help immerse yourself into your creativity, even if you have a busy lifestyle. You can spend 10-30 minutes a day making macrame and you will feel and see the benefits.
I always say that the ripple effect of macrame can be seen in the maker, you, but also in the family and friends around you.
I had countless emails of makers sharing with me the 'macrame effect'.
Mum sharing time with daughters, women sharing skills with friends, women carving me-time from the family life/busy work life, daughters sharing their skills with their elderly parents to help them divert their mind from sickness, nurses and doctors using macrame as a 'yoga for their mind' to cope with the pandemic. Women use macrame to help them with anxiety.
Don't underestimate the power of macrame
---
Below I am sharing a few of the macrame wall hangings from the students of 'Become a confident macrame artist'.
DO YOU KNOW:
👉 30% of the students that join have never made macrame before. They are all proud of their stunning macrame wall hangings by the end of the course.
👉 80% of the students continue their macrame journey after the course- it can be highly addictive!
👉 60% sell start selling macrame after mastering macrame on 'Become a Confident Macrame Artist'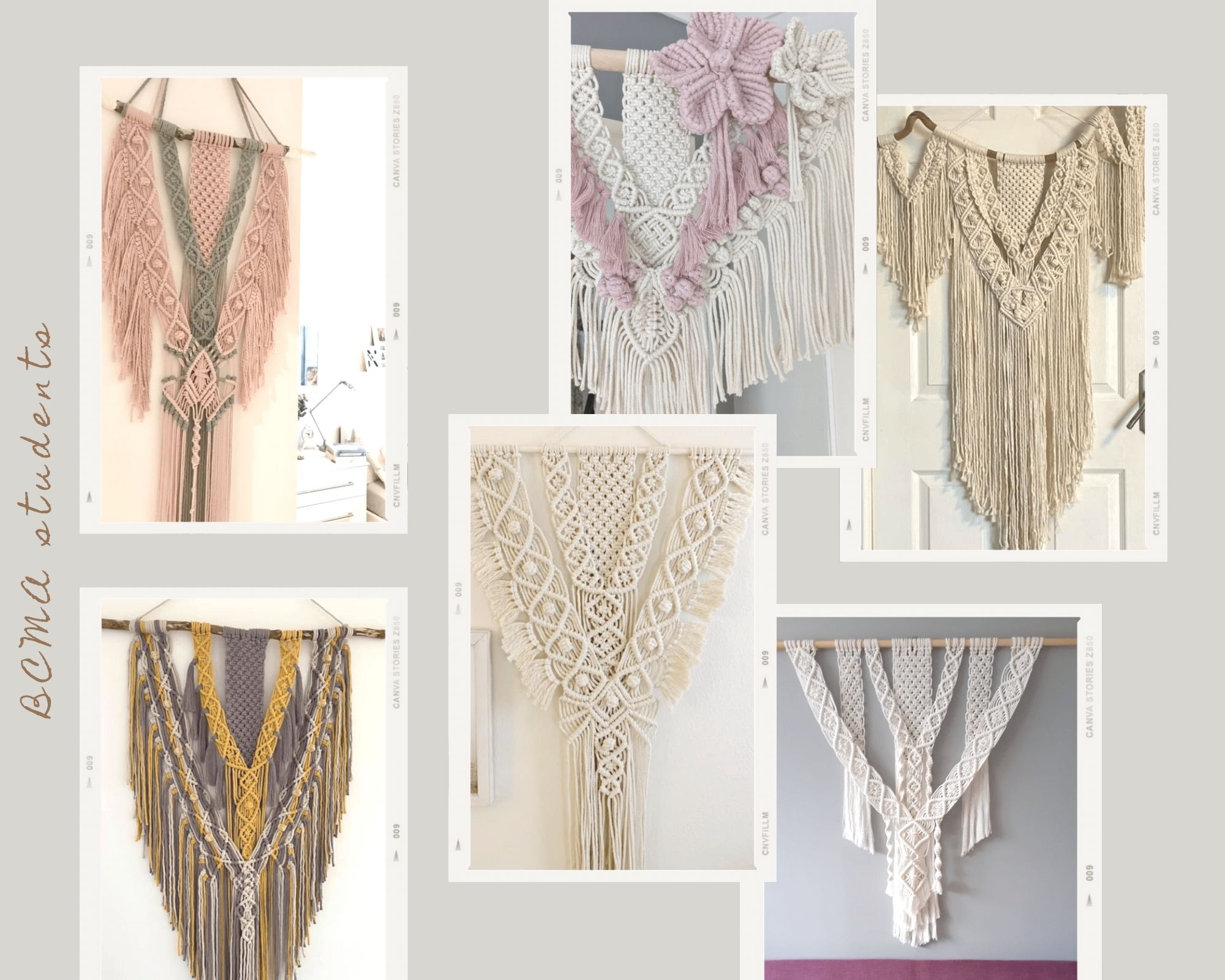 HOW THE COURSE WORKS?
As soon as you join the course you will have access to all the lectures and video tutorials. You can follow them at your own pace to fit your lifestyle.
You will also access the private FaceBook group where the students get the benefit of asking questions, sharing their progress pictures and final piece, access to my and my team's knowledge and be part of a vibrant tribe of creative women in love with macrame.
This is a SUCCESSFUL macrame online course that I have run since 2018 and many of my students are now making and selling their own macrame around the world.
If you ever wanted to learn macrame but feel overwhelmed with all the information out there (IG, Pinterest, FB, YouTube, books etc), you have found the perfect place to start.
I'll guide you from zero to pro with this hands-on course, step-by-step video tutorial & tried and tested tips & tricks.
By the end of the course, you will have hand-knotted a large macrame wall hanging, mastered the macrame foundations and have confidence in your own macrame abilities.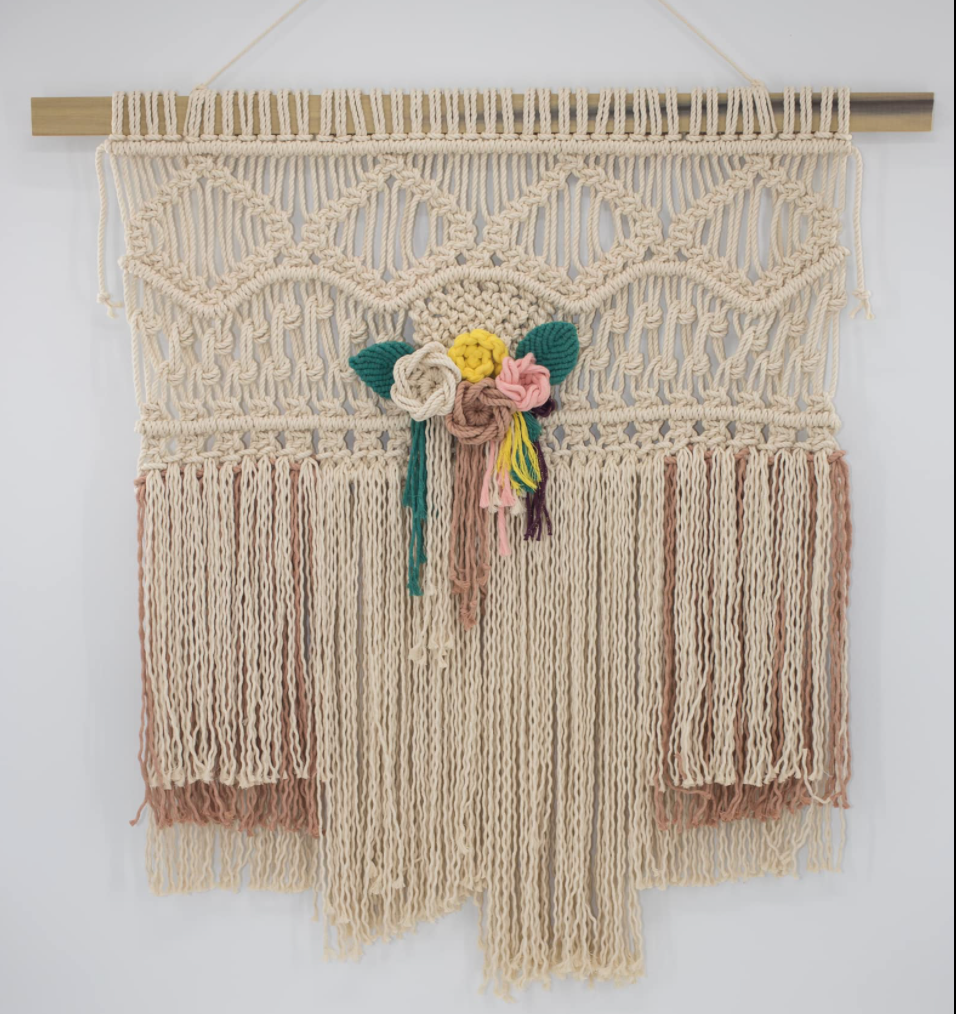 "I love Isabella, her passion, extensive knowledge and encouragement to all her students, is just amazing! Macrame helps me with my anxiety. It makes me feel calm, happy. I learned a lot from this course and I can say I feel more confident now showing off my piece.
Thank you "
- Laiza, Student Jan 2021
WHAT WILL YOU LEARN?
You will learn how to make all the basic macrame knots, read patterns, design your own macrame pieces, become a confident macrame artist & tap into your creativity with confidence.
IN SUMMARY
The main macramé knots & decorative knots
how to make a gorgeous large scale macrame wall hanging
how to design your very first macrame piece
how to read and create patterns
how to add fringes
how to make a macrame planter
how to make a tassel
all you need to know about materials: which one to use and when, how to mix colours and textures and much more!
By the end of the course, you will be a macrame pro
confident to design & create your own pieces.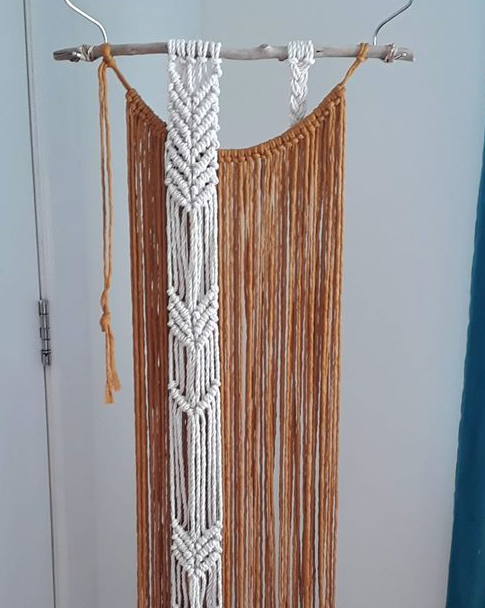 "I cannot believe that in just four weeks I have created something so beautiful and unique to me. I have met some lovely people whom I hope to keep in touch with through our community page. I feel excited to be part of something that is in its infancy but that will hopefully grow and grow. Throughout the course Isabella has been on hand to answer any questions and give advice on all manner of macrame related topics. The weekly live has been something I looked forward to and after initially being nervous am glad I took part in.
I have fallen hard for macrame and aim to practise with a view to eventually looking at having a stall at a craft fair or even holding my own workshops. First I must learn to walk before I can run! This course has given me a really solid foundation with which to begin this journey..."
- Amanda, Art Teacher, Scotland
Your Instructor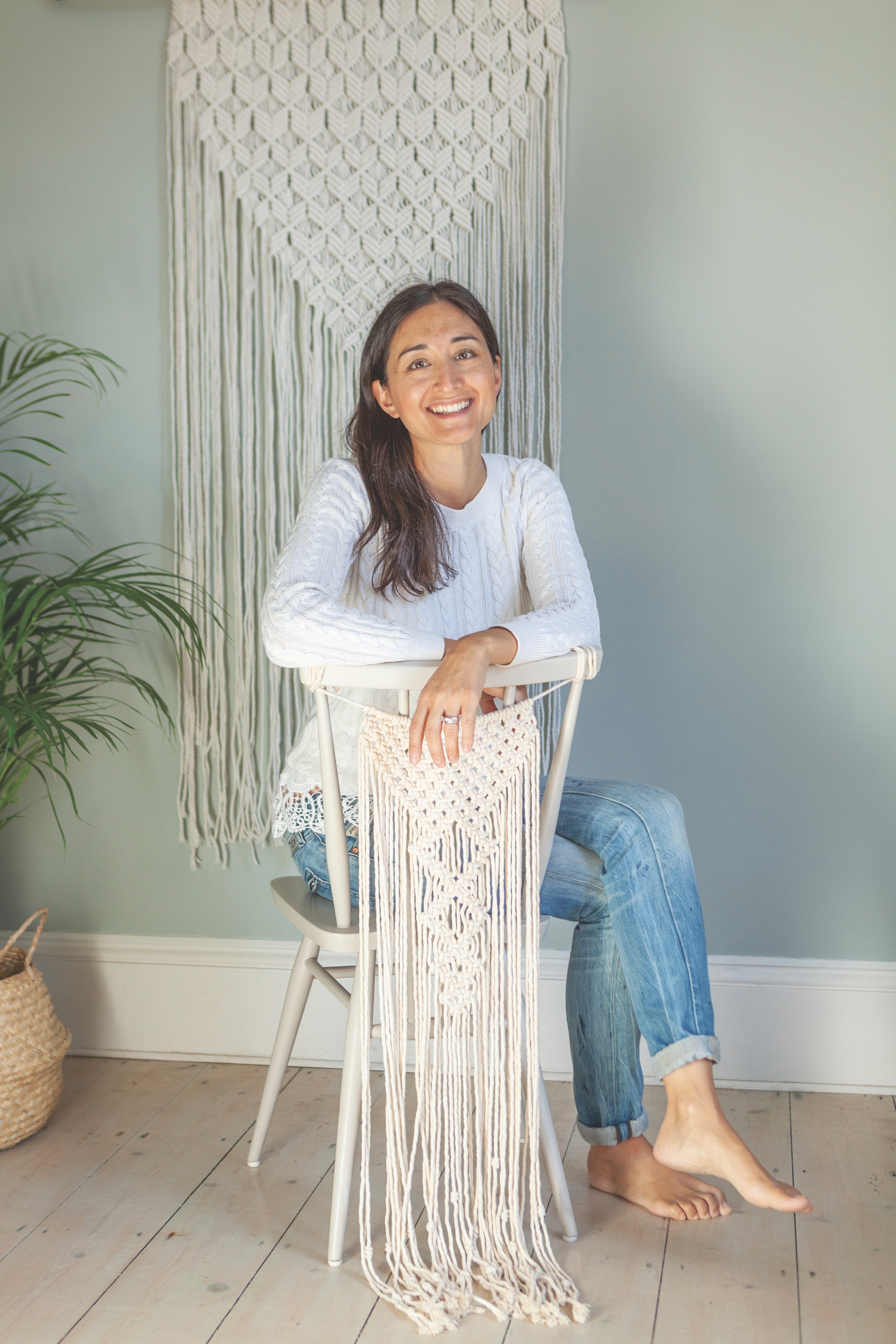 I'm Isabella a macrame artist, educator & author with a passion for anything handmade and design. I'm passionate about helping people find time to be creative with their lifestyle and fell in love with macrame. I run workshops and online courses for all the people that want to learn this craft in-depth and from the comfort of their homes.
I've been featured on the Sunday Telegraph, GoodHomes, Psychology and I often write macrame tutorials and articles for magazines like Mollie Makes, In The Moment, Hobby Craft & Gathered blog.
My first book 'Macrame for the modern home' come out in 2020, my next book is out at the end of 2022 and I am currently working on a third one.
Course Curriculum
WELCOME Section
Available in days
days after you enroll
Module 1
Available in days
days after you enroll
Module 2
Available in days
days after you enroll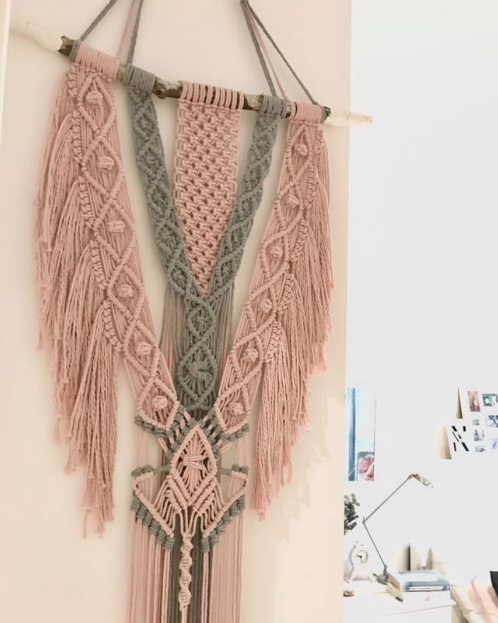 "The Macrame Online Course has exceeded all my expectations. Isabella was always there for us adding little extras and providing advice to suit our individual needs. The format was perfect, it felt lighthearted and substantial at the same time, personable and very flexible.
I finished the course with an impressive wall-hanging piece (it is for me!) and was left with a solid foundation, plenty of inspiration and tutorials to work on my next projects. I have also joined the Macrame Community Membership, to continue on this creative journey and keep motivated.""
- Deborah, London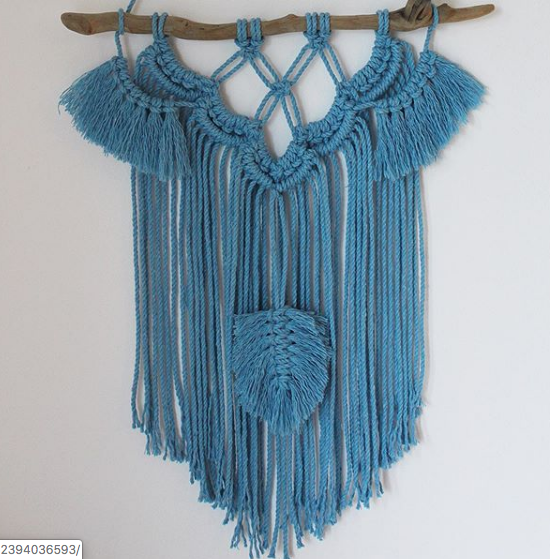 "Isabella's online course is really good as it breaks everything down to mini videos of all the different knots and techniques making it easy to learn. It's split into 4 weeks as well so it doesn't get too overwhelming with so much to learn at once.
She has been very supportive through the course as well, any questions are answered straight away and very supportive on social media also, commenting and sharing my work giving me encouragement to carry on and do better.
Isabella is a great person to learn from as she has been doing courses and workshops for a while and knows what we all struggle with and how to help with the problems to develop our skills further.

I definitely recommend this course to anyone who is wanting to learn a new skill or to find a new hobby. I am addicted! "

- Kali, London
Frequently Asked Questions
When does the course start and finish?
The course starts as soon as you join and you will access to it for 12 months
How long do I have access to the course?
You'll have 12 months access
Who is this course for?
Anyone attracted to anything Bohemian. Anyone that enjoys crafts and making. Anyone keen to try something new and fun. Anyone that has always been drawn to natural materials and handmade. Anyone that loves modern macrame! Anyone that wishes to make some extra money with a new skill.
What kind of support will I get?
You can email me any time with any questions.
What equipment do I need?
You will get a list of the equipment required as you sign up for the course. You will need to purchase ropes or strings to make and practice your macrame skills, but apart from that, you won't need to buy anything else, unless you want to.
How much time will I need to spend on it?
It will change week by week and it will mostly depend on you and on how enthusiastic you are to progress with your project. As a general rule, I would say minimum 2-4 hours per week.
What if I am unhappy with the course?
We would never want you to be unhappy! If you are unsatisfied with your purchase, contact me in the first 7 days and I will give you a full refund.
Are the classes a specific time?
All the classes are pre-recorded and you can follow them at your own pace.
Can I email you any questions?
No problem! Drop me an email at
[email protected]
and I'll do my best to get back to you as soon as possible!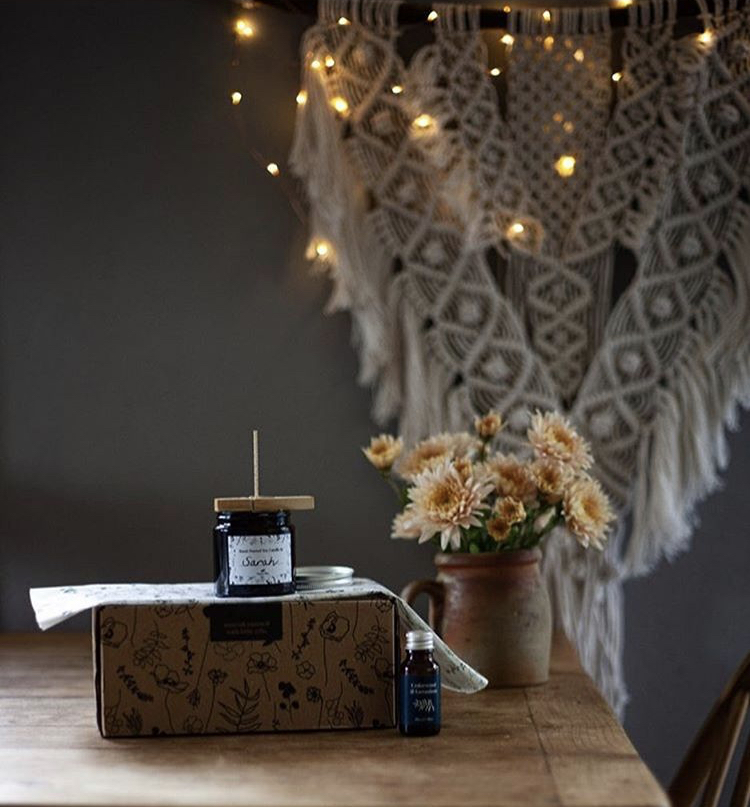 "I've always wanted to learn macrame and Isabella's online course was the perfect way to learn for me.
I found the videos easy to follow and soon got the hang of the different knots and techniques. There is also a live video each week which you can watch later if you are unable to make it. I found these helpful as well as the Facebook group where Isabella will answer any questions you have.
I now have a beautiful wall hanging which has received lots of compliments from family and friends. There are also some smaller projects to do alongside the main one which are really nice too.
As someone who had never attempted macrame before I can definitely recommend this course. I really loved it and am planning my next wall hanging!"
- Sarah Corder, Photographer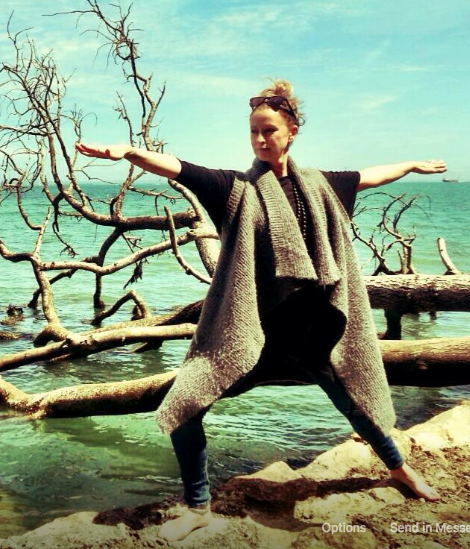 "I have wanted to a Macrame course for a while and when I saw this online course with Isabella it seemed the perfect opportunity to practice at my own pace but with support. I loved being involved in the FB group and seeing other peoples creations and the online classes were a great opportunity to get advice from Isabella and inspiration from others on the course, we had time to go away look at inspiring pieces online and come back the next week and discuss how they were done, a one day course doesn't usually give this opportunity.
I finished the course with a beautiful wall hanging and lots of inspiration to do more!
I definitely want to do more Macrame in future and start playing with other techniques, knots and my own wall hanging designs!
Thanks Isabella, I had a great time!."
- Lisa, Yoga Teacher, London